Last week changed our country. We've often talked about how technology has changed the way we do business, but it's never been more evident than during the COVID-19 crisis. We've all been forced to figure out ways to connect virtually and work together to find ways to keep our economy and our communities afloat.
These are unchartered waters. Almost overnight, national conversation shifted from politics, scandal and brokenness. Instead of harping on our differences, we've looked beyond our borders and connected in humanity with the rest of the world. We've been touched by the serenades of quarantined streets and inspired by the support for doctors, nurses and other health providers holding the front lines—providing help and comfort to those who are suffering in isolation. Now the pandemic has reached our borders, and we are working hard to figure out how to stop it—but also what the virus will mean for our future.
Sept. 11th changed the way we viewed security. We had a much-heightened awareness—especially related to airline travel. COVID-19 is likely to change the way we sanitize our environments, prioritize American manufacturing and respond to threats upon our public health. It will likely revolutionize the way we work.
The world overnight has also broken down the barriers between our work, home, and social lives. You've likely heard a child scream, a dog bark, or a doorbell ring during a video or phone conference this week. The New York Times has even given some advice on how to find the perfect backdrop for our endless rounds of video chats.
The E&V team even started a daily team Zoom—which has helped increase productivity and brought our workplace into the 21st century.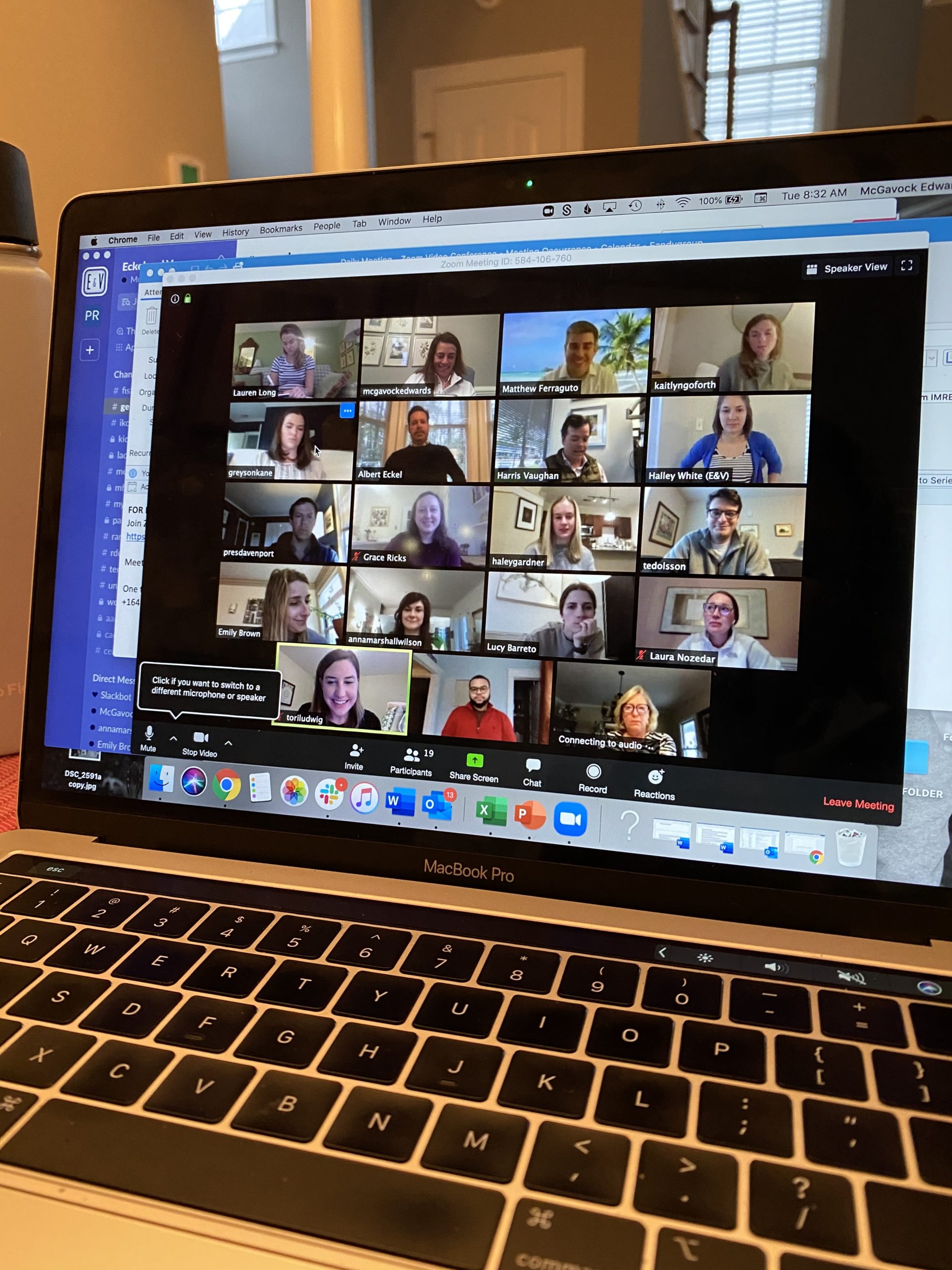 To many, the humanization of our bosses, state leaders, coworkers, and clients has been the encouragement needed to get through this crisis. We are a part of a larger society that needs us—whatever part it is we play. Whether we work in finance (helping families navigate and understand tremendous losses), in retail, in food service, in health care or whatever, we all play a part.
For years, brand trust has been slipping. People don't trust companies. But, (many) companies are coming out of the woodwork to bring private-sector solutions to public health problems. It's America at its finest. North Carolina's own Beverly Knits and Parkdale Mills are leading the charge to make new medical masks. Dyson is creating ventilators. Dentists are donating personal protective equipment. North Carolina businesses are doing so much to help that the North Carolina Chamber put together "See the Good NC" to record the staggering support.
People don't trust politicians, but politicians are getting dollars into your bank account. People don't trust the media, but they're bringing us daily briefings with Dr. Fauci and Dr. Birx (I mean who doesn't love them). People don't trust CEOs or leaders who rule from an ivory tower, but many of them are making tough choices to keep their people employed and cared for.
It's trust we need during a crisis. It's everyone's hope that our brands, leaders, doctors and nurses, financial planners, grocery cashiers, truck drivers and CEOs can deliver. These are no longer stereotypes, instead they are people. They are individuals with strange hats, screaming children and random artwork. And they care about solving problems. If we've learned anything over time, it's that America comes back stronger when we see others as our neighbors—not our enemies.
Here's to hoping that this devastating virus brings about the change our country so desperately needs—and that brands use this opportunity to humanize their efforts. It's the hope that America needs.