Hashtag hijacking has spoiled multi-million dollar campaigns and created PR nightmares for marketers worldwide. But recently, nonprofits and causes have begun to take a cue from the hashjackers and use the guerrilla marketing tactic as a vehicle for social good.
The Oklahoma Red Cross took advantage of the SyFy channel's live tweet promotion of the awesomely bad Sharknado and commandeered #Sharknado to highlight their organization's abilities and bolster the spirits of a tornado-ravaged state. Thanks to the hijack, Oklahoma Red Cross reached millions of Twitter users beyond their established donor and volunteer networks and raised thousands of dollars for disaster relief programs.
Last week, the scientific community saw a unique opportunity in Seventeen magazine's #ManicureMonday. Intended to rally young fashionistas around the Seventeen brand, #ManicureMonday took on new meaning as isotope geochemist, Hope Jahren, hijacked the hashtag to promote atypical femininity, fight female clichés, and promote STEM careers for women. #ManicureMonday posts soon shifted from polished and sparkling digits to hands handling willemite rich rocks, mounting protein crystals, and adjusting microscopes.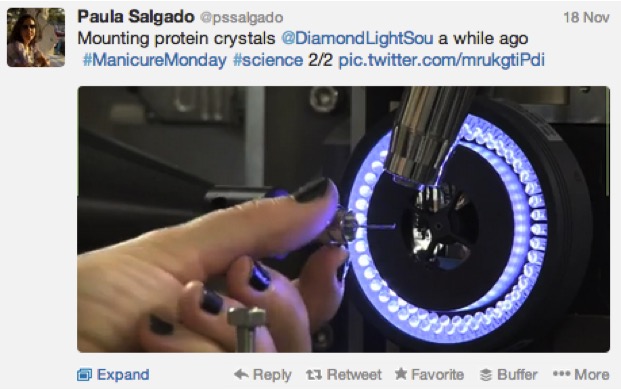 Why should we praise these hashjackers and condemn others who are essentially doing the same thing? For me, the critical difference lies in the sentiment. Anyone can try to negatively redirect conversations; it's not productive, original, or creative. But like a rock tumbler that takes everyday stones and turns them into useful gems, these digital do-gooders are transforming social chatter about the trivial into meaningful conversations with the goal of inspiring prosocial behavior.
So how should Sharknado and Seventeen magazine respond when their hashtag is hijacked for good?
They should acknowledge and utilize the positive alternate messaging in a way that ensures they remain a part of the conversation. After all, isn't the purpose of social media to house thoughtful, multi-faceted conversations? They have the opportunity to step outside the insular nature of traditional advertising and become a part of a social community of digital neighbors interacting and helping each other. Personally, I can't think of a better way for brands to be seen as a necessary and beneficial part of the lives of consumers.
What do you think of hashtag hijacking? Does positive hijacking have a place at the table or should hashtag hijacking be benched regardless of the sentiment?