I don't often like to mix work and play; but lately Pinterest has been making that difficult. While Pinterest has always been my go-to site for wedding planning, recipe discovery, and home decorating inspiration, it has recently risen to new heights in its power as an e-commerce marketing engine.
This visual-based social powerhouse touts over 14 million unique visitors, has grown by 4000% in the past 6 months, lauds a growing international presence, and happens to be leading the race of online sales referral traffic — up to 60% more than Facebook.
We've sung the praises of Pinterest before, but recent tools and coming updates are helping crown Pinterest as the king of social e-commerce.
Here are a few of Pinterest's most effective marketing tools:
1

 Rich Pins
Rich pins are a retailer's best friend. Enhanced with metadata, these pins feature extra information, like a price. Key to rich pins is their real-time pricing feature, which not only ensures the information shown is up-to-date, but automatically notifies pinners who've pinned the image of any price changes. Talk about getting the right message to the right audience!
2

 API Feed
Pinterest API feeds can display a category of pins right on your website, enabling you to connect website visitors with your hottest products. With categories like trending or most-shared, these feeds are refreshed in real time. API feeds also let potential customers pin products and images directly from your website, so as to not interrupt the retail experience with a detour to Pinterest proper. The platform is currently rolling out the feeds with big brands, but you can sign up here to get your name on the waitlist!
3

 Improved Analytics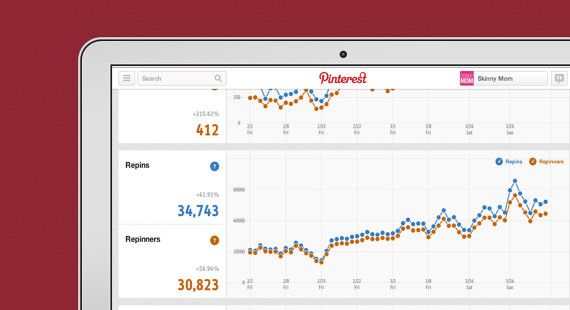 Pinterest analytics is getting a refresh! The feature has always provided insight into how your pins are performing, but was sorely lacking in the kind of detailed information we've come to expect from other platforms. The rebooted analytics page offers new, more comprehensive breakdowns of not just pins, but board performance, insight into how non–website pinned content is acting, and a look at how pins drive engagement across different platforms.
4

 Promoted Pins

Promoted pins operate like native ads within Pinterest feed streams. Designed to function seamlessly across the platform, promoted pins will allow brands to advertise the best content to a targeted audience on a per-click basis to the business's website. This feature proves that Pinterest is ready to step into the big leagues when it comes to digital advertising. Like the API feeds, promoted pins are currently being tested, but you can sign up to ensure your brand is first in line.
These merely scratch the surface of opportunities waiting for brands on Pinterest. And as the site continues to grow and improve, we're sure to see exciting new updates that help brands make the most of marketing efforts on the platform.
Need some strategic guidance on amping up your Pinterest presence? We'd love to have a conversation with you about how to become a Pinterest pro. Give Matt Ferraguto, our client services director, a call at 919-858-6914 or shoot us an email.