When Team USA athletes come marching out during the opening ceremony of the London Olympic Games, they will be dressed in patriotic outfits courtesy of clothier and "American icon" Ralph Lauren. The idealized scene should cause millions of American viewers to swell with pride. However, beneath the red, white, and blue attire lies a tag with a very common but decidedly unpatriotic message: "Made in China."
The Situation
Compounding the problem is the fact that so many American factory workers are struggling and/or unemployed during the current economic recession. The controversial story broke on ABC News on the evening of July 11, and it wasn't long before lawmakers from both sides of the aisle denounced the revelation as an embarrassment for Ralph Lauren and the U.S. Olympic Committee.
Within 24 hours, the issue had ignited a social media firestorm as well. Online traffic peaked on July 12 with more than 27,000 Facebook posts, tweets, news articles, blog posts and comments on that day alone.
Facebook users stormed the Ralph Lauren brand page and posted hundreds of comments scolding the company for their "greed," "elitism" and even "treachery." Here is small sample of the outcry: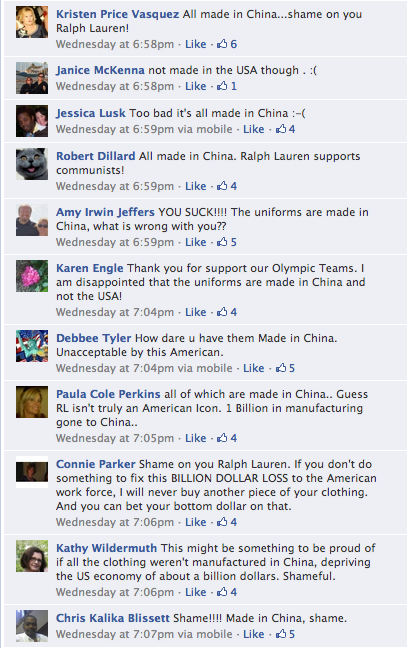 The Response
Even with all of these harsh words being thrown around, there was no response in the first 24 hours from Ralph Lauren. U.S. Olympic Committee spokesman Patrick Sandusky acknowledged the criticism and tweeted his own reply on July 12.
Finally on July 13 (nearly 48 hours after the story broke), Ralph Lauren finally issued a response, posting its official statement on Facebook.
Response from Facebook followers was somewhat encouraging. To date, Ralph Lauren's statement has received 3,609 likes but still received a number of negative comments reflecting the popular sentiment: too little, too late.
Key Takeaways
In today's world of 24-hour news cycles and non-stop social media activity, even an hour can feel like an eternity. Ralph Lauren allowed nearly two days to pass before responding to customers and observers who were tearing apart their brand online and creating Facebook pages organizing boycotts of Ralph Lauren products. Inactivity only exacerbated Ralph Lauren's public relations disaster.
Even in the absence of an official media statement, Ralph Lauren's social media team could have developed some brief responses for the commenters that would both acknowledge the issue and promise further investigation. Although this would not appease all detractors, many would appreciate that their voices and concerns were being
heard and addressed. Moving forward, Ralph Lauren's response efforts should continue to focus on reasserting the company's patriotism and commitment to the success of the American team.
Ralph Lauren made the right move by reassuring consumers that future uniforms would be manufactured in the United States. But one has to wonder how much trouble the company could have avoided if they used a healthy dose of common sense and produced the uniforms domestically in the first place. The devil is truly in the details.