About 20 years ago, I was introduced to Stephen Covey's four quadrant planning technique. As someone whose attention span can be challenged, it helped me focus and prioritize my workload. I use it during times like these.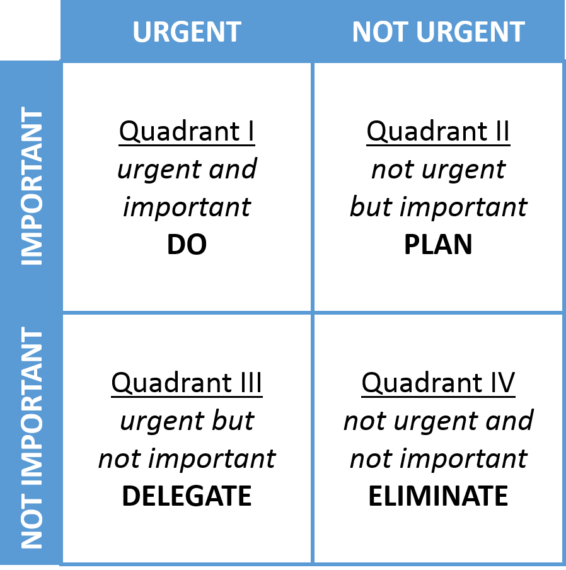 His principle was simple. Don't let the unimportant, non-urgent needs distract us from spending time planning for and acting on the non-urgent, important things.
Boy, do we ever need to heed Covey's call right now.
The current COVID-19 public health crisis has upended our professional and personal lives. Currently, everything on our list of to-do's appears to be both urgent and important. And for the most part, that's true.
But as CEOs, managers, team leads, as parents and, frankly as citizens, we all must steal a few minutes away from each day to focus on the important things: How should we emerge from this public health crisis? How can our employees, our suppliers, our brands, our world emerge smarter, better, and more stable? What will it take and what can I do to make that happen? What will our brand stand for? How will we communicate? What will we say? How can our company, our foundation, our non-profit, our government help communities move forward again?
I'm drawn to a new single from Coldplay, Everyday Life. It may well be the song for this crisis. In the first stanza, the lyrics ask, "What kind of world do you want it to be? Am I the future or the history?" Two important, non-urgent questions we should act on.
One of the things I am hoping—and praying—for after all of this passes, is a renewed sense of commonality among us. Over the last three decades, forces have pulled us apart from one another for a variety of reasons—personal, political, and financial. It stuns me that it takes a global pandemic to remind us all that we are one and that our individual actions—what each one of us chooses to do—can have a direct effect on an entire planet. How does the saying go? "Do unto others?"
Let's heed Covey's call and commit ourselves to a better "us" moving forward. We did it after 9/11 and the Great Recession. Surely, we can do it again.