Brazil might not be ready for the World Cup, but Twitter sure is!
Just before the start of the World Cup matches, Twitter has created a brand new #WorldCup portal that can be accessed by searching #WorldCup.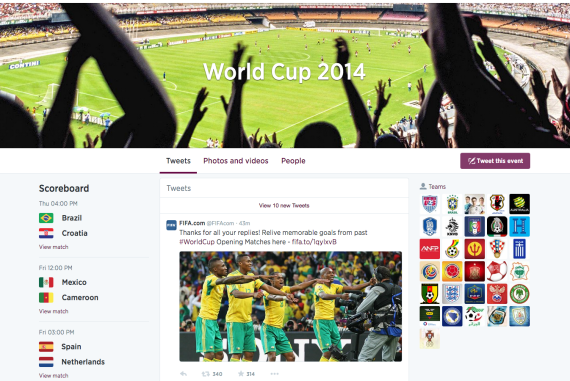 From this site, fans can click "Tweet this event." A tweet appears with a pre-populated #WorldCup. This is a great way to keep the conversation streamlined and to cut down on any other hashtags (such as #WorldCup2014) that might crop up and fragment the conversation.
Speaking of hashtags, Twitter also re-released "Hashflags." This new spin on the traditional hashtag couples country codes with matching flag emoticons.
Twitter isn't the only platform celebrating the start of this global competition.
Facebook has a World Cup Trending page and a Fan Map. Google dedicated the Google Doodle on kickoff day to the World Cup and has a Google Plus page focused on the competition. There is a FIFATV channel on YouTube that allows fans to watch player profiles, relive great moments from past World Cups, and keep up with all of this year's action.
Needless to say, for the next month, it's going to be all soccer (or futbol), all the time.
Considering we aren't all organizing globally relevant soccer tournaments, what can we learn from all of this? The key to these takeaways is scalability.
Create an information hub. Whether it's a landing page on your website, a mobile app, or a Facebook tab, having one central spot of information for your event/initiative/program is important.
Avoid fragmentation. With so many events being shared, followed, and discussed online, having a defined hashtag is crucial. Choose this early, promote it heavily, and stick with it.
Little details matter. Call me emoji-obsessed, but I think anything containing an emoticon is better. Creating "hashflags" is probably an easy coding project for Twitter, but it makes the World Cup conversation that much more fun. Reimagine the traditional and look for opportunities to incorporate new life into them.
Need help taking your next event to World Cup status? Let us help! Give Matt Ferraguto, our client services director, a call at 919-858-6914 or shoot us an email.