The Challenge
On Friday, April 28th, employees at Smithfield's Chicken 'n Bar-B-Q in Garner, NC, were accused by a member of the Raleigh Police Teamsters organization on social media of making insensitive, racially charged remarks to a group of police officers as they dined at the restaurant. The scene was described as numerous black employees singing N.W.A.'s "F*** tha Police," making the police officers so uncomfortable they left the restaurant before eating. The incident played into the tense racial tensions plaguing the country, quickly elevating this story on a national scale. Our client was highly scrutinized on several national news outlets, including Fox News, The Drudge Report, and the Associated Press (AP).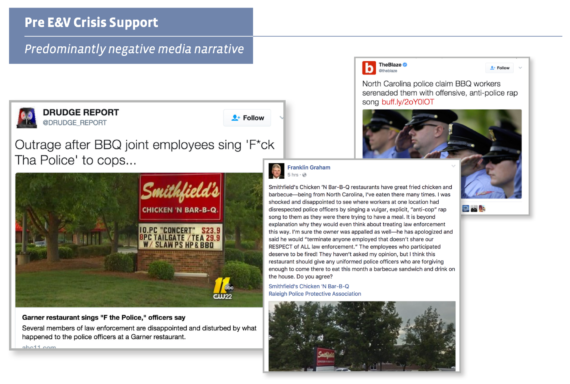 Given the subject matter, the client faced far-reaching implications that demanded a swift and decisive response. Eckel & Vaughan was brought in to help Smithfield's create and implement an effective crisis communications plan.
The Strategy
Eckel & Vaughan teamed with Smithfield's legal counsel to devise the best course of action for reaching all target audiences and easing the public's concerns. It was essential to reach all audiences quickly and thoughtfully, and to get ahead of the situation in the media. Our team quickly shifted into crisis response mode, monitoring media reports and putting a crisis communications plan into action as soon as we learned of the incident.
The Outcome
After reviewing the surveillance video and building a timeline based on the time stamp of the video and comparing with social media, we were able to meet with the Raleigh police chief and her team and agree on the events of that day—something far less than what the original post described. The matter was resolved and the employee who allegedly disrespected the officers is no longer with the company. Eckel & Vaughan and Smithfield's counsel worked in collaboration with Smithfield's, the Raleigh Police Department, and the Raleigh Police Protective Association to get to the root of the issue and bring an end to the nearly week-long crisis.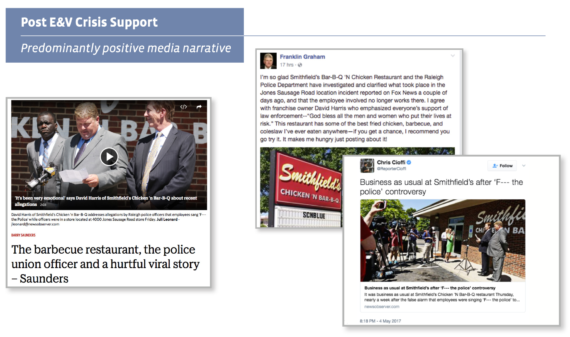 Through our strategic efforts, we were able uncover the truth and vindicate our client. We held the media accountable and corrected a string of bad reporting. Several of these news outlets, as well as Rev. Franklin Graham himself offered apologies for their part in disseminating misinformation about our client. Smithfield's continues to receive praise—from employees, residents, surrounding towns, and even
the media—for their timely, thoughtful, and positive response. Employees and their families, the greater community, and the media turned to us as the reliable source for credible updates and we delivered without incident.